((EDIT: Doodles added to the Sunday bit!))
Saturday
It all started with an early cross country train bound for Birmingham. Having never visited Birmingham before, I was mighty pleased my buddy
Rich
was going to meet me at the station and act as a guide, otherwise I might never have arrived at the convention!
So thanks to my personal sat-nav, we arrived intact at the venue which was held at the Think Tank Millenium thingey. Basically a huge modern building on several floors, housing a cinema, cafe, science stuff for kids, conference rooms, some Lego part that we never got to explore (boo), and of course two large halls completely dedicated to the world of comics.
I had packed way too much (as usual) and looked more like a sweaty pack-mule than a Jen. My bags would come to bump and crash into things almost continuously while I had them on (Here's a Sorry to the people I twacked by mistake!). I had trouble getting through doors... That should give you an idea. :P
After having met some buddies and other familiar faces, me and Rich (unable to find the Sleepless Phoenix table where I could drop my stuff off) went to Yuko Shimizo's talk, dragging my bags with us.
Yuko is a very sweet and funny lady who does absolutely fantastic comic-covers (among many other things). She's behind all the covers for the graphic novel called 'The Unwritten'. Here are some samples to give you an idea of how awesome she is.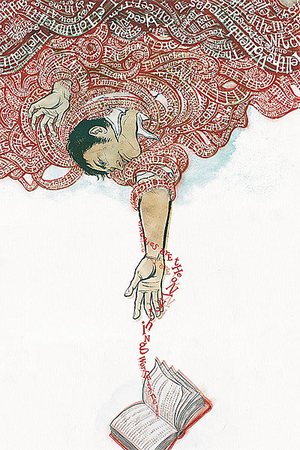 Me and Rich were suitably impressed!
After the talk we went to properly meet up with some friends including
Corey Brotherson
with his partner Mon and
Matt Gibbs
with his partner Vicky.
In the midst of the intense and exciting atmosphere of the largest exhibitors hall, me and Vicky were suddenly approached by a two-man filming crew who wanted to hear the views of 'female comic book enthusiasts'. In hindsight, I should've said 'no thanks :D', but went ahead with it and agreed to being filmed. BAD MOVE! The moment the camera was pointed at me, I just became completely choked up and flustered, uttering nothing but rubbish that made me sound like a twat. Vicky on the other hand was composed and said exactly what I was MEANT to say. At least now I know not to ever agree to filmed interviews. I learn the hard way!
I felt embarrassed about the entire ordeal for a long while, but something would make me completely forget about it and holler out in absolute joy. What could that possibly be I hear you ask!?
BURLESQUE!
Me, Vicky and Rich had decided to attend another event at the con called 'Dr Sketchy's Heroines and Villains'. It was held in the same speakers hall, but now instead of housing panelists and comic book talks, it was the home of beautiful ladies, strutting their stuff, getting undressed to cheesy/hilarious music and finally posing for 15 minutes each to let the crowd draw them. At the end of each 15 minute pose the performer would walk around the audience, looking at their sketches and pick out the best one.
Allow me to elaborate on this AMAZING event that I'm never going to forget. (Watch out, this is gonna be a long post!)
We had decided to take a front row seat on the side to get a closeup view for the drawing (only the drawing, I promise... Mrreow!). So we were close enough to actually converse with the performers during the 15 minute pose.
It all started with the hostess sauntering in, dressed as Jessica Rabbit while singing a sexay song. She moved around the audience, placing her knee down on some men who sometimes looked incredibly awkward or just stunned. It was hilarious to watch :D
She proceeded to introduce the first act. A performer dressed as the Silk Spectre from Watchmen who came in and did a short performance piece where she undressed in front of the audience, leaving only Watchmen Smiley faces covering her breasts and a short short skirt cover the other bits at the end..! There was a lot of hollering and whistling. Most probably coming from me and Vicky. :P
I hadn't brought my watercolours at this point and ran out to get them, but I didn't make it back in time to paint the lovely Spectre, so the first 15 minutes pose didn't work out. A lady from the crowd was chosen to have made the best sketch and was brought down to stand next to the performer while given a round of applause. Lovely atmosphere, I must say.
For the second performance, Wonderwoman came in and did her undressing act before again posing for 15 minutes. This time I was able to start painting.
I should also mention that at this point, the hostess had switched costume from Jessica Rabbit to Tank Girl. :D
When the 15 minutes were up, Wonderwoman went around the audience, picking out her favourite sketch.
....
Which was me.
With my painting still drying, I was asked to come to the 'stage' where not only was I given applause and a free ticket to their next event, but Tank Girl also wanted a peck on the cheek! One must deliver, of course.
I scurried back to my seat and the next performer arrived. This one started off looking like a psychiatrist, so I was a bit confused at first, but then when the music started and she began to perform, it became clear that she was Harley Quinn, transforming into her nutty alter ego after having The Joker as a patient. Very creative, but when it was time to do the 15 minute pose, her stance and my angle made her gun go straight in front of her face, so it wasn't really ideal... But hey! I went for it anyway :D
When the 15 minutes were up I had to run out to change the watercolour water, so I didn't see who won, but I am sure it was brilliant! Wish all the sketches in the crowd were gathered on one site or something.
Next on que was none other than Cheetara, doing one of my favourite performances simply because it was so hilarious! She was growling and licking and prowling and bouncing and... of course getting undressed. There was a lot of 'Raaawwrrrr!' motions going on :D When it was time for the pose, she was facing the other way, so again, it wasn't ideal for painting, but I worked with what I got.
15 minutes up, Cheetara checked out all the sketches and paintings and coloured work (I think I saw markers and colourpencils in the crowd) and finally came back to me.
I was a bit stunned to be chosen twice, but was urged back on stage by Tank Girl who told me that I now had TWO free tickets to their next event! (need to find out where they are..!)
This time Vicky also got a round of applause for holding my water bottle during the painting sessions, which was hilarious :D
The last performance was by far the most haunting. In strode a tall and slender Poison Ivy, on sharp stilettos and a tight green leaf dress. She had peacock feathers in her eyelashes(!).
At this point Vicky received a text saying that our friends were waiting outside and wanted to go eat. We had apparently been gone for 2 hours and they had patiently sat outside, drumming their fingers. We didn't know this until the text arrived and were suddenly in a rush to get out to meet them, so when the performance was done and the painting finished, we bundled up our stuff and rushed towards the exit, where I (of course) fumbled with my painting water and paints, dropping the paint on the floor and splashing water all over myself. Luckily a lady came to help me pick the stuff up (thank you by the way!) and we could continue hurrying off.
So.. PHEW.
After that experience, we all went off to eat some food and then continued over to a hotel bar (with limited drinks) where we chilled out and had a chat with about 10 other BICS people until around 1am. I met more new writers here and had a long chat with them. Cards were exchanged and some scripts may follow. The comic book crowd are such a casual and pleasant bunch to be around.
Finally went over to crash at Corey's mum's place. Many thanks for offering me a room there! Much prefer being with friends than in a hotel.
Right!
Sunday
Got on an early bus (managed to only twack a few people with my bags this time. Progress!) and headed into the venue. Rich hadn't arrived, and the other peeps were off doing their thing, so I went to the 11am Charles Vess talk on my own. This was by far the most inspiring talk I had been to. The way Vess draws and paints and constructs his work is so amazing. I don't know how to properly describe it other than just saying that it's amazing. Even though that word alone doesn't really justify it. I've been considering going over to inks for a while now, but been a bit scared of the permanence of it. Once you've laid it down on paper, it STAYS there. Unlike watercolour where you can shift it around and erase bits and just mess around a lot more. But with watercolour, there comes a point when you can't lay anymore paint on top, unlike ink (which Charles later told me).
(Sketched while listening to the talk)
If you've read my previous personal account of the
Women in Comics Conference
where I sat one chair away from Melinda Gebbie... You'll know that I simply can't talk to people I admire, because I choke up. In the previous two cons I've been to, I've only said one thing to a person I admired, and that was during a talk between Paul Gravett and Kevin O'Neil. I managed to ask him a question. That was it. Other than that, I tend to flee.
This time, after Charles Vess had finished his talk, I thought: 'Oh feck it! Let's just bloody try this CONVERSING stuff' (I mean, it can't be much worse than the flustered babble I had done the day before infront of the camera). So I scurried down to him before he left, but found that he was surrounded by fanboys which made talking impossible.
I waited patiently (read: Shakily) until the fanboys dispersed and finally approached mr Vess to ask him about his inking methods.
Walked with him for a bit while we talked about the techniques. He told me I should come to his signing table later and chat some more. I think I almost nodded my head off a this point, then rushed off to meet my friends at the cafe. Noticed that my hands were shaking. But DID IT. YESS. And that was the beginning of awesome events to come that same day.
My portfolio review was soon after. To my slight horror, I noticed it was in the open space right outside the speakers hall where people were queuing up to see Jonathan Ross. So anyone could see the portfolio and probably hear the conversation between the editor and the artist.
I won't go into too much detail of what was said during the review I had with Harry from Markosia, but I left floating more than walking, so that should give you an idea.
Also, many thanks to James (hope that's the right name?!) and that guy with the hat and the long hair (sorry I'm rubbish with names) for being so nice and wishing me luck before the review. It was a much needed little pep-talk. :D
Met up with Corey again and went over to the Markosia table in the big hall. I had been told to talk to Ian about lettering Butterflies and Moths, so we searched for him, but when we realized he wasn't by the table, we decided to wait for a bit until he returned.
I looked around and noticed that the table RIGHT NEXT to Markosia was Charles Vess' table. Instant jaw drop. The table was of course buzzing with fans wanting things signed, buying his Peter Pan book, wanting sketches etc, so getting in there would require elbowing. Being a bit of a pussy and far too polite (yes, really!), I waited until a space was free and squeezed in. I was still wearing my portfolio from the earlier review. Vess was going through another guys portfolio at that point and I sneaked a peek over the guy's shoulder to eavesdrop.
When the artist left (from what I saw of his portfolio, he did very realistic and sharp ink works which were fantastic), I immediately shuffled forward to Vess and said something on the lines of: 'You look really busy..' at which he replied: 'Yes, but I want to see your work.'
Choke.
I can't really remember everything as clearly from here on, because it was all just so surreal. I had brought not only my portfolio for my initial review, but also a printed copy of the first chapter of Butterflies and Moths, and a preview copy of Skal (the pages that are online, just printed out and staplebound together). So when I opened the A3 portfolio for Charles Vess, these two little printed 'booklets' were obviously in there and subsequently shown to him.
Our discussion circulated mainly around painting technique and fantasy graphic novels. Because I can't find any here in the UK, he said there are tons in the US, but he couldn't remember the names at the top of his head, so! He promised he would get a few names/titles together and send them to me in an e-mail. This obviously meant that I gave him my card. Something I never thought would've happened at this con, or ever. But that wasn't the end of it! He -kept- the preview copy of Skal.
Insert much more fangirly rambling here. :D
The meeting came to an end and I was shifting over to the Markosia table again, now that Ian had reappeared me and Corey were able to chat to him. It took a short while for my speech to go back to normal. I rambled and said 'stuff' a lot, but soon composed myself and got to have a long conversation about proper digital lettering. We also discussed free online comics and I mentioned Skal again. I think I said a lot of negative stuff about it, but let's hope I kept that negativity to a minimum. (Arty people showing off work. Don't say negative things about it!)
... Phew! So after THAT very insightful chat and promises of keeping in touch, I had yet another chat with another publisher where I got some feedback on my portfolio. I think once you've shown your portfolio about 3 or 4 times, it becomes a lot easier and less awkward. And it was very helpful, so I really suggest arty people show off their work to as many as possible to get lots of different opinions!
Corey had to go at this point, so after a few bye-hugs and all the rest, me and Rich were left to do some late shopping. There were plenty of discounts available because of the time of day, so I bought Book 1 of Mezolith from Gosh Comics! and then 5 other graphic novels from the huge European stall. Two French books and three Italian ones, if I remember correctly. Oh, and an erotic magazine by Alan Moore. It had two kissing butterfly boys in pink thongs on the front cover. How could I resist?
While me and Rich were moving around the different stalls, I heard someone behind me saying: 'Excuse me, excuse me' with an accent I couldn't really place. Maybe French? Not sure.
I looked around to face a middleaged man with glasses who held out a shiny card to me and said: 'You spoke with Vess. Showed your art to him. Send me files. Send me files..!'
I accepted the card and only managed to say 'thank you' a few times to him before we parted ways. Was a bit baffled by the entire thing. But gonna research this dude later today. See who he is :)
So! After that surprise, and now with even MORE packing than when I arrived, it was time to leave. We said our farewell's to people we knew and dragged our feet towards the exit. Achy, hungry, dehydrated, smelly... But so pleased. Both me and Rich were glowing when we left the convention. We had both been able to speak to some people he admired. It was so refreshing to be social around people with the same interests and passions.
I can't wait for the next one!